Hello there… lots of great stuff for you today so let's dive right in!
First of all I want to thank Emma Cooksey for having me as a guest on her podcast "Sleep Apnea Stories." Emma is a fantastic host and I think this was a great episode. I was able to tell a decent amount of my really crazy story, including some really bad health scares that you would not believe!
At least 25% of the US population has some type of sleep apnea which could lead to very serious health issues if it goes untreated. The scary part is that 80% of the cases go undiagnosed. What this means is that many of you reading this today have sleep apnea and simply do not know it. Here is the link to the show: https://lnns.co/m-c4fXoJ_UN
Secondly, as many of you know, I have been an athlete for most of my life. A 40 year plus runner, skier, backpacker, hiker, and more. I always thought by doing all of these things and "eating right" (that's a whole 'nother story I will get into soon), I'd be in great shape forever. Or almost forever!
I could not have been more wrong. There is a crucial thing I really never knew much about and as a matter of fact, most of us do not know much about this. It's about how to breathe properly. I was basically doing it all wrong. Not just during exercise but ALWAYS!!! I came across a book that I can honestly say is one of the most important books that I have EVER read in my life. It has become my bible!
It's called "Breath" by James Nestor and I cannot emphasize enough that each and every one of you pick up a copy TODAY. I really mean this. This book will change your life forever and I guarantee it. I am just about finished mine and I have highlighted so much, I plan to go back and re-read it again and again. Here is a link to Amazon where you can get a copy. https://amzn.to/3oyTwbP. I recommend getting a hard copy as opposed to Kindle just because you will want to highlight so much. I know you can highlight on a Kindle but let's face it, it's not as easy and not nearly as much fun!
Again, this book will change your life – that is a guarantee from Dr. Dave!
Onward.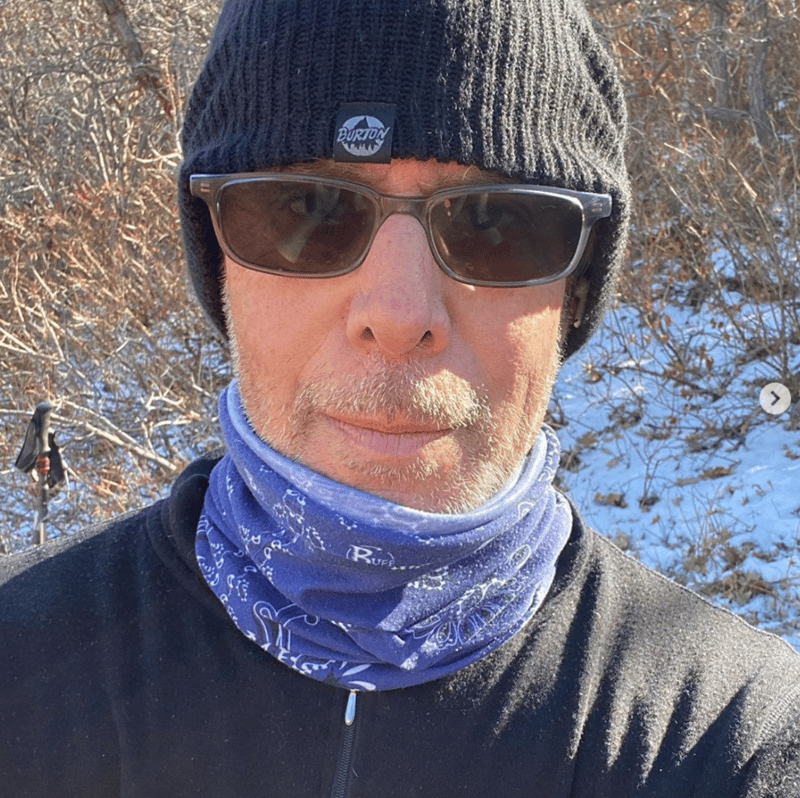 The above is actually a pic I took from my morning hike yesterday, which was day 73 of #75HARD. It's not that I am vain and love taking selfies! One of the things I must do for 75 days is take a progress pic so I can see how I am changing. Back on day one I was in a terrible funk. I had some crazy weird health problems basically all summer long. I made it a point to figure out what's going on with my body and work on my health every single day. I have a lot to share. I will share a little bit at a time because some of it is mind blowing. I actually found that a diet that I was preaching for so long was slowly killing me. So instead of doing the same thing every single day expecting a different result, I had to change something. And I totally changed my diet. Some people are going to be very surprised, other people are going to be very upset with me. Others may threaten me. But that's just the way it is.
Also I changed the way I breathe from what I learned in the book I mentioned above. That is making an incredible difference in my life. Again, I will share more as I can. I believe so many people have health issues that stem from some of the things that I had but have no idea. Once I complete day 75 I'm going to start over with a modified program that I am developing. Stay tuned, we can all do the next phase together. Love you all and thank you so much for your support.
https://davidmadow.com/wp-content/uploads/2022/05/microdose-U-banner-300x80.png
0
0
David Madow
https://davidmadow.com/wp-content/uploads/2022/05/microdose-U-banner-300x80.png
David Madow
2020-11-07 17:45:27
2020-11-07 17:45:27
I Can't Breathe